We got the 1° EPD of the cast-in anchor channels

We have invested in the EPD certification of our cast-in  anchor channels and took another step towards "green building" and new environmentally friendly construction. The EPD Environment Product Declaration concerns the HGP, GP and GPseismic anchor channels; the document is available to everyone: Customers, Designers and Environment Managers.
The certification process has helped us to better understand the path we all must take to save the planet.
Producing the LCA Life Cycle Assessment analysis was a long, tiring and complex job but we are happy with the result.
What is the EPD used for and how is it made?
Inside the AdermaLocatelli EPD there are 7 products. For each product there are 25 environmental parameters including GWP  Global Warning Potential, the contribution to the greenhouse effect in CO2
.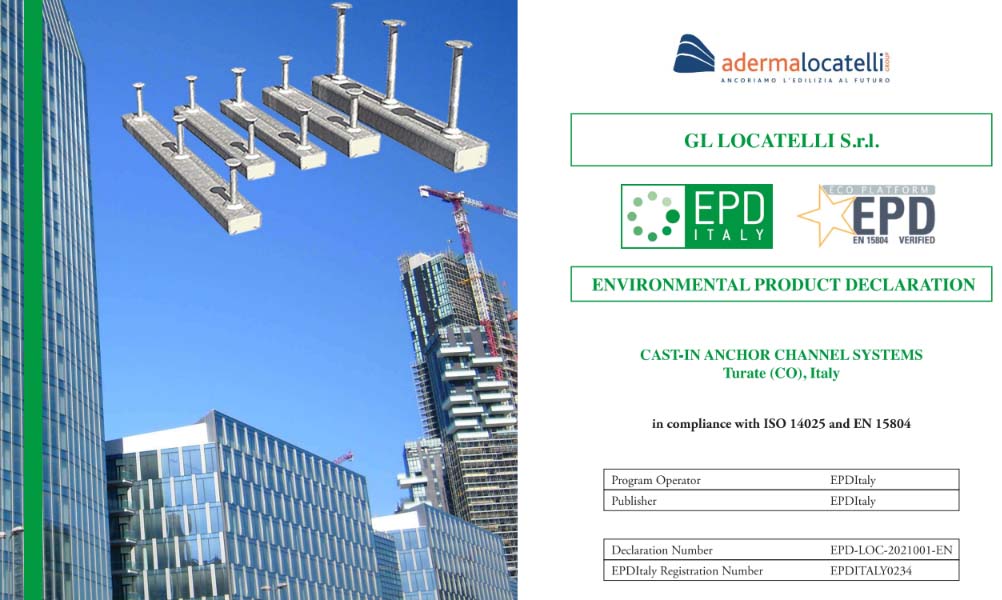 Each of the seven products is represented by the pie chart that helps to understand the environmental impact of the components.


EPDITALY is doing a great job providing explicit data for each product. This policy requires full transparency from the manufacturer. AdermaLocatelli shares the transparency policy and for this reason has chosen the Italian Program Operator present on the European EcoPlatform portal.
To give force to the change in the construction sector, the Italian Ministry of Ecological Transition has ordered the CAM,  Minimum Environmental Criteria, so that the purchasing offices of the Public Administration privilege products with an EPD certificate.
PNRR, procurement places great emphasis on products and components in possession of an EPD.
By purchasing the HGP, GP and GPseismic anchor channels, you can attach our certificate to your supply, declaring that your product contains the EPD certified cast-in anchor channels.
In certified "Green Building", the EPD is highly appreciated because it helps to increase the building's score.
Only with EPD certification is  possible to analyze and manage the green transition of building, construction and the real estate system. AdermaLocatelli is proud to offer its contribution to environment change.