asp CONCRETE PANELS ANCHORING
ANCHORS FOR PRECAST PANELS -CONCRETE PREFABRICATION SYSTEMS
AdermaLocatelli offers a wide variety of anchoring systems for concrete precast panels, this section includes various products for the connection of precast panels along the perimeter of the building:
Vertical panels, which rest on the perimetral beams of the building, are anchored at the top through the HGP, GP anchor channels or the GP Seismic connection, described here. An anchor channel has to be in vertical position at the top of the panel while, another one, has to be placed horizontally in the beam. The anchoring is completed with bolts and plates.

 are anchored at the top through steel boxes to the GP anchor channels, placed vertically, in the columns. The anchoring box is incorporated into the panel, so there are no constraints to the installation of the top panel.

Steel boxes are available for horizontal panels to link the upper part of the panel to the pillars. The anchoring box is incorporated into the panel, so there are no constraints to the installation of the top panel.

8 kN and 16 kN brackets for horizontal panels. The horizontal panels have their own weights, that cannot be supported completely by the panels placed below. Anchoring of two or more panels with their weight resting on the panels below can be dangerous; if the bottom panel should break, the remaining panels would collapse each one onto the other. In the event of an earthquake, shifting of the horizontal joint in the pillar panels would cause panels (and everything resting on them) to collapse.
ASP brackets allow the panels to be anchored onto the pillar. Anchoring is adjustable in three directions. ASP brackets have been used in Italy for many years, and have demonstrated higher reliability despite earthquakes.

GL Locatelli created Link-Loc for the manufacture of heat-insulated sandwich panels. Link-Loc is a cylindrical stainless-steel connector that is anchored onto the electro-welded reinforcement grid of the surface supported. The opposite end of Link-Loc is anchored to the electro-welded grid in the weight-bearing surface. Each connector has a lift of 1.5 sqm. The system is easy to use in production, and gives the panel sufficient flexibility, without forming cracks on its surface. Termo-Loc calculation software is available for designing the thermal capacity of panels made with Link-Loc.
The software is certified and compliant with European regulations.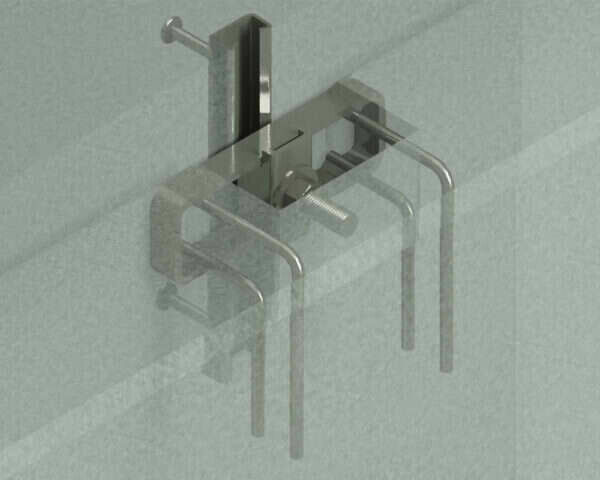 PRODUCT LIST:
ASP30 with polystynere shape
ASP40 with steel box
G2D with steel toothed box
SRZ15-120 with steel box
SR15 with steel box
ASP Anchoring for panels have been used for the realization of several projects.
Several manufacturers of precast concrete panels in Italy, Spain and many other countries in Europe and Asia use these fastenings every day in their production.
Our technical office can help you to find the best solution for your production standard.
Contact us by email at gl@gllocatelli.it or complete our online contact form if you need more information about the product or for general enquiries.