Fastenings for ventilated facades - Series I
Anchorage systems for ventilated facades
The anchoring system Series I is totally made of aluminum EN AW 6060 T6. This anchoring system is the best solution for ventilated facade in thin panels where it is not possible a mechanical fixing. A safety mechanical system must be assessed according to the type of the cladding tile and the height of the cladding.
The panels are fixed by means of adhesive Sikatck Panel.
The load bearing brackets type L are available in different dimensions according to the insulation thickness and the air gap between the cladding and the wall.
The vertical mullions are available in two different colours, natural grey or black anodized.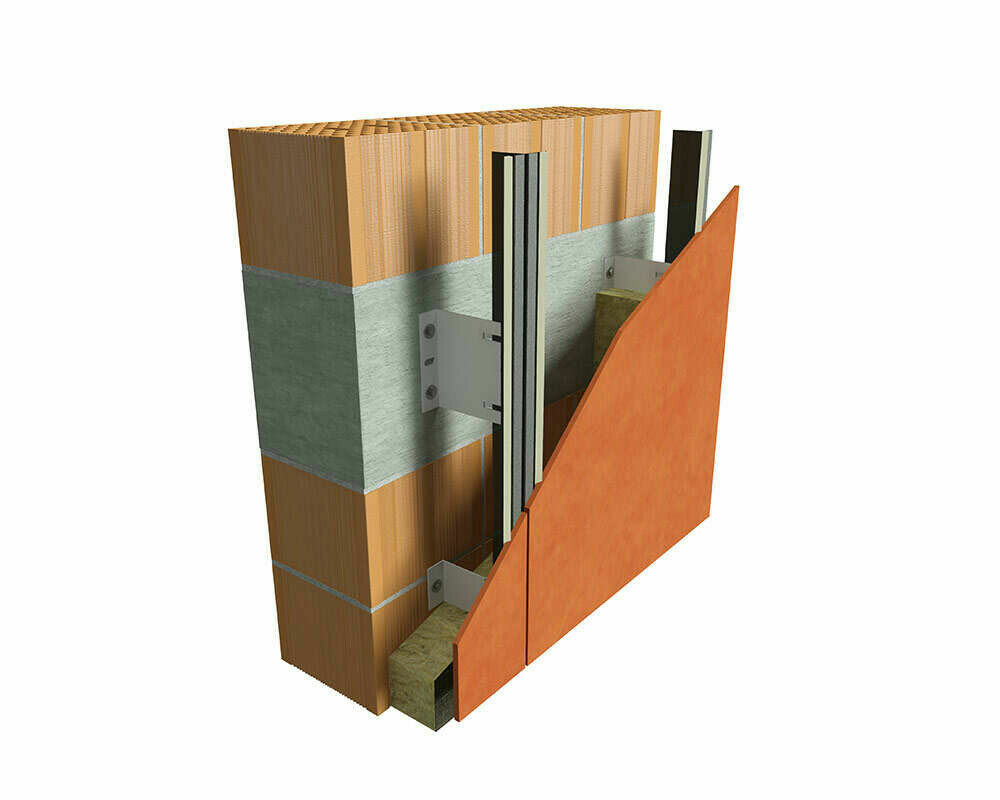 The anchoring system is composed of vertical profile "T or L" in aluminium EN AW 6060T6, cut along the whole length according to the project requirements.
The vertical profiles are fixed to the wall at a certain distance each other (normally in the middle of the vertical joint of the cladding) by means of a special bracket plate L shape in aluminium EN AW 6060 T6. The bracket dimension is calculated according to the load and the shape is studied to reduce the thermal bridge.
The load brackets are fixed to the structure in concrete by means of anchors (mechanical or chemical) and allow an adjustment of ±20 mm of the vertical alignment. The vertical profile is also fixed along the wall by means of an intermediate L bracket and anchors according to the wall material. The cladding is fixed to the vertical profile directly on site by means of adhesive type SIKA TAK PANEL.
Furthermore a double-sided sticky tape is used during the installation it to maintain in position the cladding until the adhesive became solid. The surface of Vertical profile and tile need to be prepared with apposite primer and activator (following strictly the instructions of the adhesive producer).
This type of anchoring system is strongly related to the installation process conditions (temperature, humidity, cleaning of surface …). We suggest to use it for tiles with small dimensions, light, in areas protected from the sun and rain and in areas where the access for maintenance is easy.
Series I – Fastenings for ventilated facades certifications
All the anchoring system elements are produced following high standard of quality according to ISO 9001 and are also CE certified according to the UNI EN 1090.
The product Fastenings for ventilated facade – Series I has been used for the realization of several projects.
Find out more!
Contact us by email at
info@adermasrl.it
or complete our
online contact form
if you need more information about the product or for general enquiries.